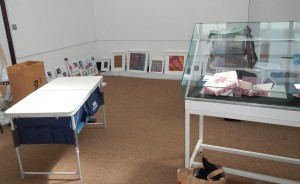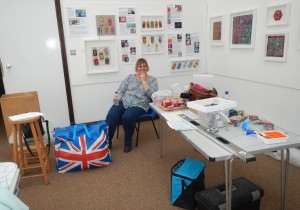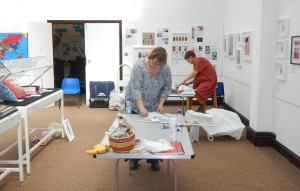 The 'FIVE' exhibition is now installed in Worthing. I've 'disappeared' from my blog for a while because of preparations for the exhibition, so I'm pleased to say it's all hung and open to visitors now. There's one photo above of a finished section, and I'll add more photos of the final installation when I've taken some in better light.
In the meantime, here are some photos of 'work in progress' while we were hanging the work. We did have a few 'headless chicken' moments, but we were OK once we'd worked out a 'grand plan' of what was going where before getting down to details. There's so much to organise in advance, down to the minutest details like the size and length of screws needed, where to source plinths from, publicity and writing Artist Statements etc. Working out a 'house style' was well worth the time invested, to give some continuity for labels etc.
The 'team' all stayed at my house during the 3 days of installation as I'm the only one local to the exhibition. I have to admit, by the time we were kicked out of the gallery each day at closing time we were ready for a glass of wine or three. My husband is now convinced that textiles are just a 'cover' for an eating and drinking group. Mind you, having just taken out the recycling I can see why he thinks that!
We're at The Studio Gallery at Worthing Museum and Art Gallery, Chapel Road, Worthing BN11 1HP. If you're planning to come over, then a good time to come would be this Saturday, 14th May between 2 and 5pm. That's the one time when all five of us will be there so we'd love to see you then. Otherwise, we're open until May the 21st, from Tuesday-Saturday, 10.00am to 5.00pm. Do come to see us if you can. Here's a sneak preview below of part of the room in a panoramic shot.