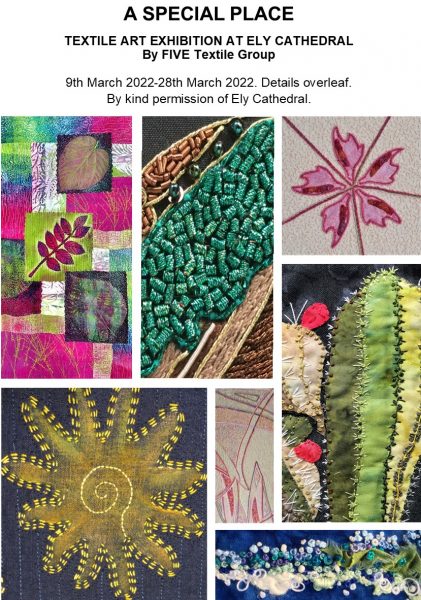 We're really pleased that our textile art exhibition 'A Special Place' will be taking place at Ely Cathedral from 9th – 22nd March 2022. Please come and visit! The theme of the exhibition is 'A Special Place'.
'We all have a secret somewhere to go to for comfort, inspiration or happiness. In this exhibition, five textile artists explore their own inspirational locations.
This fascinating collection of work ranges from handmade felt to goldwork through mixed media to quilting, all exquisitely executed. The work is based on local gardens and faraway places. Many of the exhibits will be available to purchase.
Barbara Deacon, Cheryl Montgomery, Elaine Grahame, Jane Robinson and Suzanne Ball have worked together for ten years. This is their third group exhibition, after previous successful exhibitions in Worthing & Milton Keynes'.
I'll be at the Cathedral on some of the days, so if you'd like to meet up, do let me know when you're planning to visit. There is more detail on the Cathedral website, for example opening times etc. Entry to the exhibition is free, and there's a charge of £8.50 to visit the rest of the Cathedral.