Suzanne Ball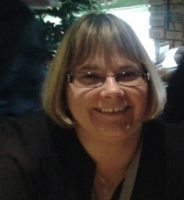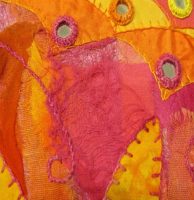 As a child at school I did a little stitching, including the obligatory cross stitch apron, a few puppets and a few cushions. Taking needlecraft further was not really an option at my school, so my experience of embroidery at that time was quite limited.  Later my grandmother taught me to knit, and I took a few courses on dress making and soft furnishings.  A year or two later a friend got me back into stitching and I couldn't get enough. I wanted to soak up anything to do with needle and thread, and I had to try everything. I booked myself on workshops or would follow books on how to do things.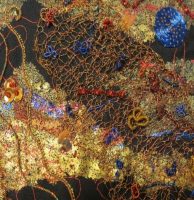 A few years later through members of my local Embroiderers Guild, I became aware of City and Guilds courses. I decided that embroidery in particular was something I would really like to do in the future, and a couple of years later I enrolled on the course at Missenden Abbey, studying at Certificate and Diploma level for six years.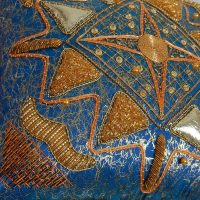 I use both machine and hand stitch, but my real love is to stitch by hand. I enjoy making 'one-off' bespoke pieces for myself, family and friends.  I am very inspired by pattern, and am always photographing the strangest things as inspiration for future projects. I have exhibited my work with my local Embroiderers Guild, at textile exhibitions in High Wycombe Museum and also with a stitching group that I belong to. I have also taken a few small workshops.
Elaine Grahame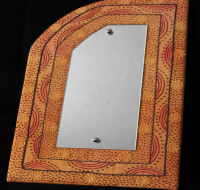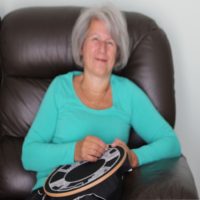 Stitching is in my genes. I come from a long line of embroiderers. My Great-Grandmother was a professional embroiderer who created intricate gold-work designs on Polish Officers dress uniforms in the nineteenth century. She taught my Grandmother, who stitched gold-work items to help support her ten children when she came to England in the early part of the twentieth century. She then taught my Aunts to sew and they in turn taught their daughters and me.
I find inspiration from my surroundings; stuck in traffic, the view of a three barred metal fence with newly planted saplings became the basis of a design for a stitched tiara. My final piece for my City & Guilds Diploma was a mirror inspired by the patterns on the feet of the reclining Buddha in Wat Pho (Bangkok) and the shape of the temples in Luang Prabang in Laos.  Since then I have continued to stitch the surrounds to mirrors based on textiles or patterns from around the world.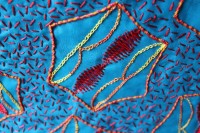 I can spend up to 150 hours on a piece as all my work is handstitched. I have exhibited work on the Missenden Abbey stand at the Knit and Stitch show at Alexandra Palace, and the Wycombe annual textile exhibition. I co-lead the Letchworth Young Textile Group.
Jane Robinson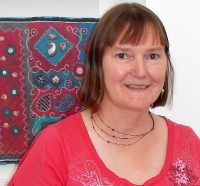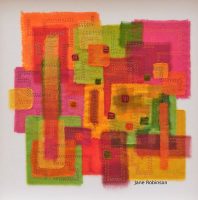 Fabric and colour always fascinated me. An early  memory is spreading the family rag-bag onto the floor and playing with the colours and textures, and I've played with fabric ever since. I grew up on the edge of Dartmoor, in an environment where there was no 'passive entertainment'. We all made things, ranging from tin-can rafts to dry-stone walls, beer or stitched textiles, and the habit of having 'busy hands' has stayed with me for life.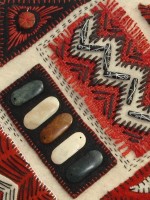 I enjoyed working alongside a group of like-minded enthusiasts on the Diploma course in Stitched Textiles, and this camaraderie led to us setting up the exhibiting group 'FIVE'. I was delighted and honoured to be awarded the City and Guilds Gold Medal for Excellence for Stitched Textiles in 2014.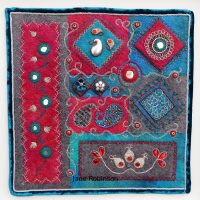 I enjoy combining hand and machine embroidery, using both traditional and contemporary techniques. I find the vibrant colour and sparkle of India particularly fascinating, and often find that I'm drawn back to Indian designs. Another recurring theme in my work is the textures, colours and shapes of rocks and fossils.
Cheryl Montgomery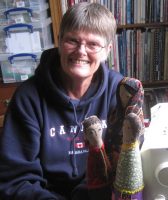 I grew up in the USA – the country where everyone's a stranger – complete with the usual mongrel American background of European settlers and refugees. My childhood was full of quilts and I can't remember ever being without needle and thread. In 1970 I arrived in the UK with no plans to stay. Somehow I changed from visitor to immigrant with photos and tiny, portable, precious things to remind me of my roots. My grandma's quilt, now almost 70 years old, is the only family treasure I have from my past. Now, I focus on embroidery but quilting is in my blood.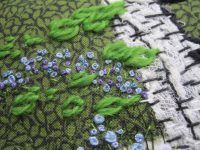 When we decided to theme our previous exhibition around world textiles it gave me the impetus to explore what it means to be an American abroad – a settler in reverse. All US migrants must learn English and the Pledge of Allegiance, although it is possible to live in a cultural bubble.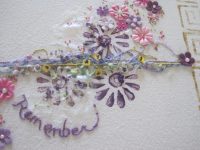 Displaying your cultural roots is a proud part of the American psyche but everyone always includes the marks of a true American – celebrating Thanksgiving, the Fourth of July and most of all the American flag. My work for this exhibition looks at precious remnants and taking leave of home, with a touch of red, white and blue.
Barbara Deacon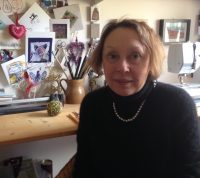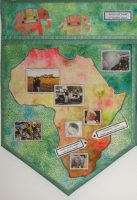 I have always loved having a needle between my fingers. As a child I made clothes for my dolls, played on granny's old treadle sewing machine, learnt to knit, later making my own clothes and soft furnishings. Unfortunately 'textiles' was not an option at school, and my experience of embroidery was limited.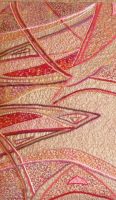 Many years later, whilst working as a primary school teacher, I became aware of City and Guilds Embroidery courses. A Mum who came in to help had recently completed one, and she inspired both myself and my pupils. The six years I spent doing the Certificate and Diploma were amazing – the latter inspiring an interest in World Textiles, the theme for this exhibition.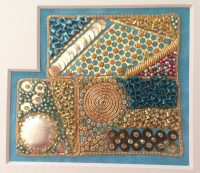 I mainly stitch by hand and love doing 'one-off' bespoke pieces, such as a wall-hanging for my Goddaughter following her marriage telling the story of key events in her life. Other recent work has been inspired by the Winter Gardens of Angelsey Abbey near Cambridge. I exhibited in Cambridge Open Studios and have had an article in 'Aspire' magazine.  I  co-lead the Letchworth Young Textile Group.