I'm currently taking part in a small textile art exhibition at the Roffey Park Institute near Horsham. Roffey Park has a new exhibition of art-work every 3 months, and this time they

invited six local textile artists. It was good to meet other textile people while we were putting it up (supposedly silently, as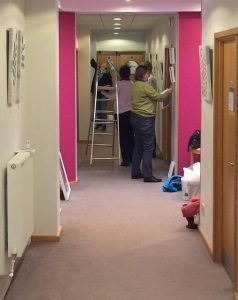 we were installing the art in the corridors while training courses were going on, although silence was hard to achieve once we got chatting). It was lovely to meet the other people exhibiting. If you'd like to visit, please phone the institute first as it's a working environment.
Here's some lovely work by Isobel Moore and Diane Rogers (below). I've seen both their work online and in exhibitions, so it was nice to meet them 'for real'.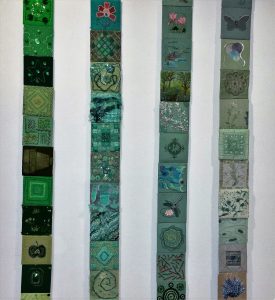 Also on display are the amazing 'Rainbow hangings' that were created by different Embroiderers Guild branches. There are 50 or so densely embroidered hangings, made up individually stitched squares of one colour, between them making a lovely rainbow-coloured collection. They were stitched by different Embroiderers Guild branches and put together as a collective exhibition that tours the country. Here are 2 close-up examples.