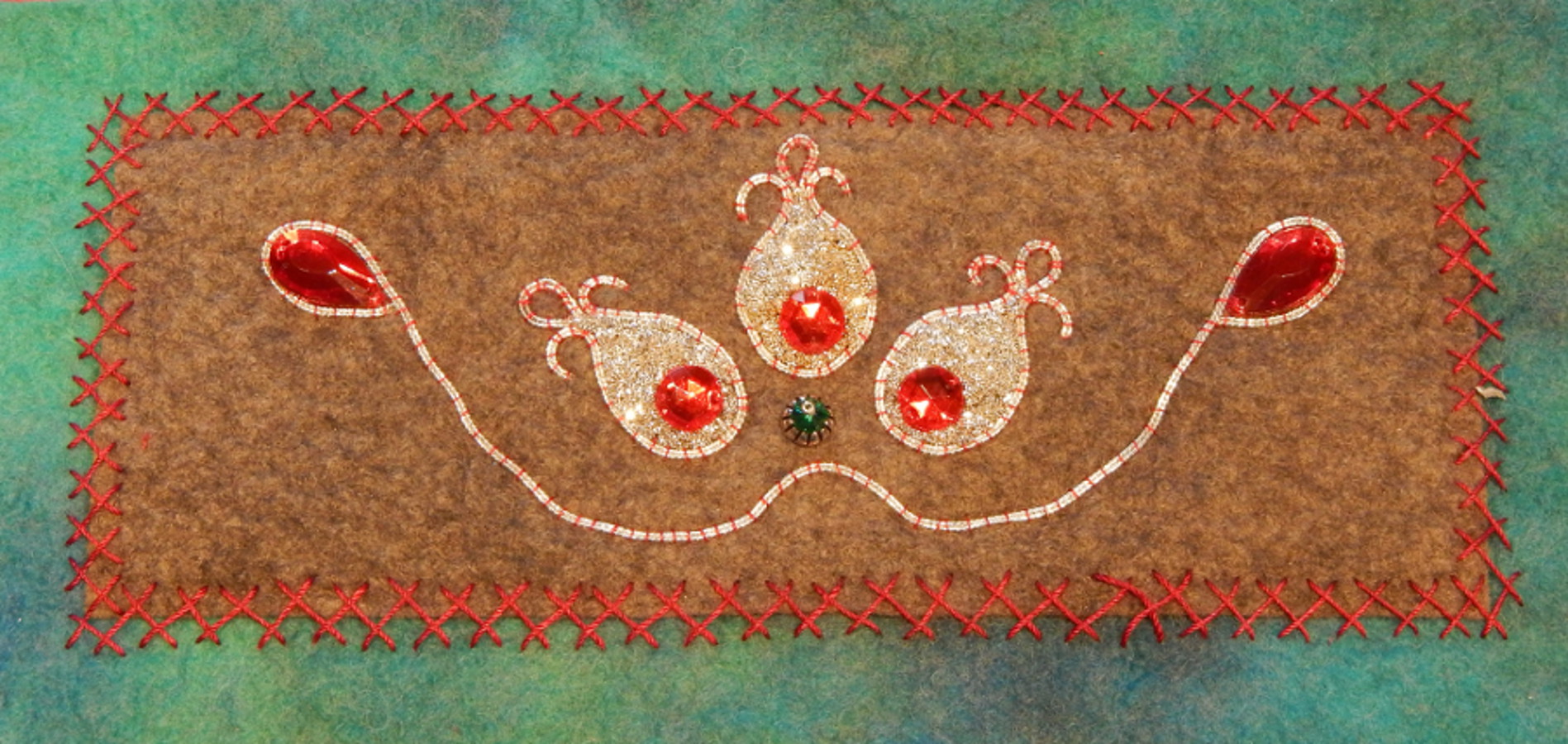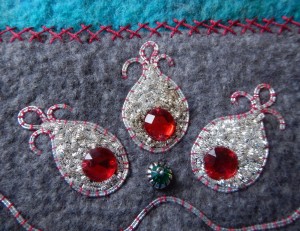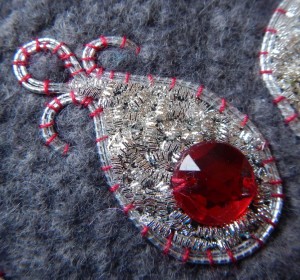 Here's the latest piece of the 'hand-stitched Indian doodles' panel that I've been working on. This is another panel that will form part of the wall-hanging that I showed in my last post 'Hand-stitched Indian Doodles'. I thought I'd add a couple of photos here, to show you 'work in progress'. 
The background is pieced and patched dyed felt, in grey, red and greeny-blue, and the embellishment is added with a combiniation of silver metal-thread techniques, beading, and hand-stitch. This particular panel has an outline in couched silver 'jap', with cut-glass beads and a filling of 'rough check' cut into pieces and applied like beads. What I can't capture in a photograph is that it reflects light and sparkles, especially aongside the other shiny bits of the other panels. When the piece is finished I'll set it up in better light and try to take some pictures with a better colour balance and focus.
It's slow work, but very absorbing. I must admit, I do wonder what I was thinking when I decided on the overall size. Metal thread work is lovely to do, but very time-consuming so it's really better to stick to something teeny-tiny (note to self for next time!)
Another reason for slow progress is the impact of building and decorating work, and the dust and chaos that it brings. I've also had some pretty major dentistry this week (bone augmentation – but that's probably enough info in case anyone reading is dentophobic!) But one good thing about this is that I have strict instructions not to over-exert myself or put my head upside down. I'm not sure how long I'll get away with the argument that making cups of tea is exertion! But it definitely excludes sanding floors and painting ceilings, so I have the perfect excuse to snuggle up in the warm and get on with some embroidery. Every cloud has a silver lining, in this a case silver metal thread lining.