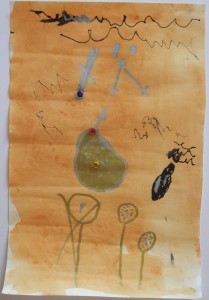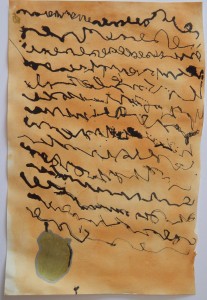 There is now a Scriptorium in our house, created by two brave young Knights from Vienna aged 11 and 6. The Scriptorium is an inner santum of the house where a secret password is needed for anyone to enter. The Knights have been commanding their brave army and fighting off thousands of warriors that were trying to attack from the back of our garden. Phew, we're saved!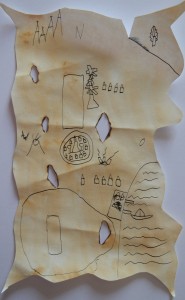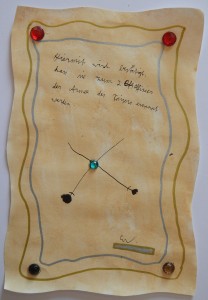 Then in the Scriptorium, the Knights and Queen Jane write treaties and draw maps to secure the peace.  A special feather pen is used for the writing, which the Knights got from their recent visit to the Tower of London. Here's a map of the Kingdom on the left, showing mountains, a forest, volcanoes, sea, a windmill, a village and secret treasure.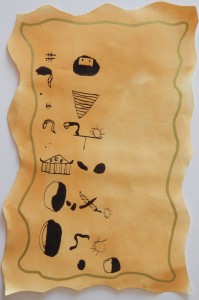 On the left you can see the story of the battle between dark and light, and how the Knights re-established the Yin and Yang of balance. I'm glad to say we're been saved from darkness.
The old paper was made from Khadi paper soaked in tea, and leather parchment was made from scrumpled tissue paper and PVA glue, soaked in tea. I always knew that the City and Guilds Embroidery course would come in handy!
Apologies for the delay since my last post, but I'm sure you'll understand that important international treaties have to take priority. I'll return to my blog some time in the next week or so when I'll update you with photos of our exhibition in May, and the Worthing Open Houses which finished a couple of weeks ago. In the meantime, back to important treaties to secure peace and harmony.