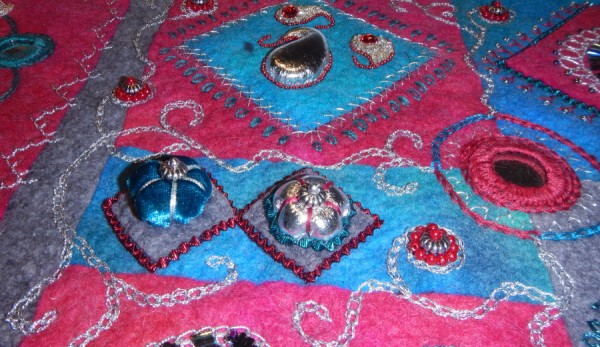 There's something about the sparkle of metal thread that keeps drawing me back to it. Perhaps I was a magpie in a former life? Here's an update on the piece that I was working on some time ago, based on motifs from Indian textiles.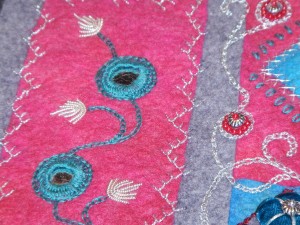 I'll just show you some details rather than the whole finished piece, because it will be going into our exhibition in May – but once it is up on the wall then I'll post pictures of the finished thing. I'm working on several other pieces alongside it, but this particular one has been quite time-consuming so it's good to see it finally coming together. I really wanted to do something that was purely decorative and not 'conceptual' in any way. I prefer not to use an embroidery hoop where I can avoid it, so working on thick felt makes that easier as it isn't too floppy. Unfortunately it makes it hard to photograph. Something about the way felt absorbs light seems to drain the colour out of the photo, so it either looks dull or harsh. The colours are better in real life, honest! I'll post some of the other pieces that I'm working on in another post quite soon.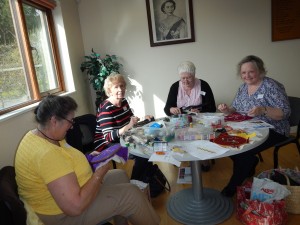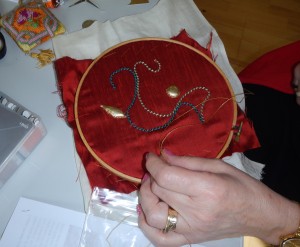 On the subject of bling, I ran a day workshop on goldwork last week for the West Sussex Federation of Women's Institutes. They have regular craft days that are open to all the different local branches. It's an opportunity to get together and learn something – and yes, some stitching did go on in between the chatting! I enjoyed teaching such a friendly and welcoming group, and their enthusiasm was lovely. I offered the choice of working from my design, or 'going off-piste' and working more spontaneously. Three people chose to work from the design and nine chose to work spontaneously. I have seen people getting quite stressed with goldwork because of the emphasis on 'perfection' and the difficulty of achieving that in the early stages. It's hard to try to produce something perfect when you're learning the techniques, and the traditional plain silk backing really emphasises any little mistakes. The idea of doing it more 'free-form' is to let the materials dictate the shapes, so that there is no 'right or wrong' place to position each piece. As I explained, the design did not need to be any more challenging than starting with a zig-zag or a wiggle, then letting those develop to complement the first lines, and then filling in spaces. Several people produced pieces that looked quite 'art nouveau' in their shapes, because they let the materials 'flow' quite naturally.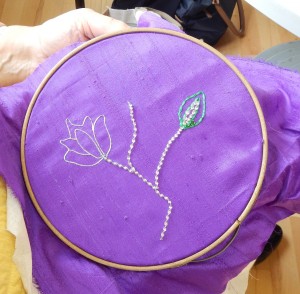 Working like that isn't everyone's cup of tea, and I did explain that it was abit of an experiment, but I was impressed that so many were willing to give it a go. The people who worked from a design also produced some pleasing results.
Now I must focus on finishing off the half-done pieces for the exhibition in May. Just to remind you, it's from Fri 6th May to Sat 21st May (Tuesday to Saturday) 10.00 to 5.00, at The Studio Gallery at Worthing Museum and Art Gallery. See the 'FIVE' page on this website for more details.