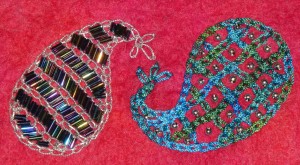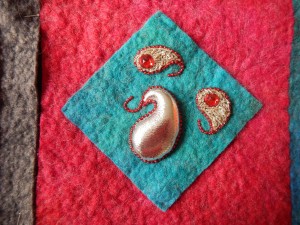 I've been working on Indian designs lately so I thought I'd show some work in progress. The inspiration for this is some of the densely stitched metal thread work that I saw in India. At the moment each piece is a separate motif stitched on a square or rectangle of dyed felt, and they'll eventually be joined together with some freer stitching wandering over the whole piece to unite them. I'm doing the stitching in a combination of silver kid, silver metal thread (purls and pearls) silver jap, embroidery thread and beads. The sizes and shapes of the squares and rectangles are based on the Fibronacci sequence, so the measurement of each piece is either 1,2,3,5,8,13 or 21cm. Once I've found an arrangement that works, they'll all be pieced together and mounted together, possibly surrounded by something silver.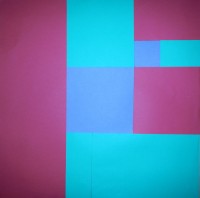 Here's an initial arrangement done in coloured card (apologies for the strange colours and photo quality!) The idea is that I can juggle with the actual arrangement as I go along and the combination of shapes and sizes should balance each other. That's the theory anyway – we'll see if it works! It's abit of an experiment as I normally have a clear idea of the overall design of a piece before I start stitching it – sometimes to the extent that maybe I 'over-design' it. It feels quite 'free' to just start each bit with whatever comes into my mind at the time – a very different way to approach it all.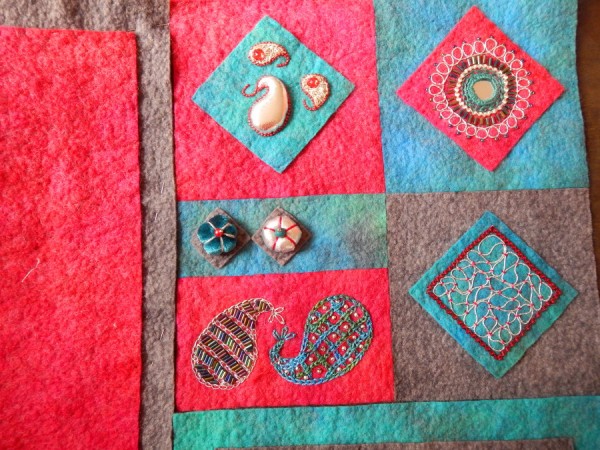 Once they're all in place, I plan to add some hand-stitching that will be freer in the way it wanders, to break up the rather rigid blocks of colour. I'll post more images as it develops.
There's been quite a gap since my last post here, but a few photos may show you why. We're in week 4 of a 2 week building project, which turned out to be a much bigger project than we or the builders realised. The hall, stairs and landing are covered in dust-sheets, tools, plasterboard etc., and the front garden is full of rubble.
The builders are lovely, but I wasn't planning on having them in the house all day Christmas Eve! It's very lucky this wasn't happening last year, when we had a house full of visitors all week. This year relatives are coming to us for Christmas lunch, but they're all local so they don't need to stay overnight. We'll clear a path free of tools and rubble for Roger's mother's wheely-walker, and I've managed to get the living room relatively dust-free.
Buying a Christmas tree was delayed because of the building works, but I finally rushed out and bought one yesterday, a lop-sided B&Q left-over. Once I'd got that decorated, it did finally begin to feel like Christmas, so things are looking up. With the state of the world as it is, it seems churlish to grumble about abit of dust. Let's just be thankful that we're warm, dry, safe and have food to eat and people around us. Just as long as I don't accidentally mix plaster-dust in the gravy!
Here's wishing everyone a very happy, relaxing and peaceful Christmas and a creative New Year.