I've been working on coiled fabric pots and bowls lately. There's something very soothing about the rhythmic, repetitive stitching involved in this kind of construction. The one above is made from strips of a dyeing-experiment-gone-wrong. It's a great way to use up material where you like the colours but not the pattern. I'm currently working on a multi-coloured one made with strips of silk sari-waste – I'll photograph it and add it to the blog when it's finished.  I just can't resist buying bundles of sari waste due to the glorious colours, so it's good to finally find a purpose for it.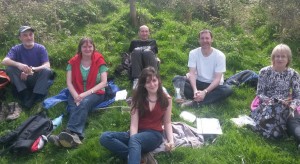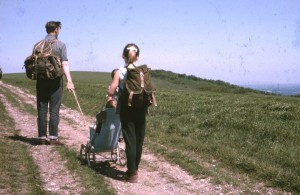 Last weekend we had a visit from my middle brother and his other-half, and my youngest brother and his daughter. Evelyn and Hannah wanted to learn how to make these coiled pots, so we had an impromptu session on how they're constructed. It's wonderful having art and stitch enthusiasts in the family. Seeing us sitting on the floor, heads bent together and absorbed in our own world, prompted theatrical mutterings from the men of 'When shall we three meet again…'
We also had a lovely walk up to Chanctonbury Ring in the spring sunshine. When we were up there, we suddenly realised that it was almost exactly 50 years (!) since we three siblings were last all up there together. Here's a photo of us last weekend: and one taken 50 years ago, with youngest brother being pushed (and pulled) up the South Downs Way in the Royal Chariot.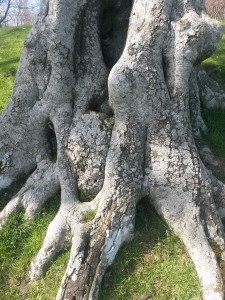 I liked the gnarly shapes of this tree in Chanctonbury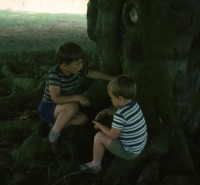 Ring – I can see it in soft manipulated felt with some highly textured stitching. It reminded me of one of my brothers' less appealing pastimes when they were small. They would poke sticks into the dark crevices between tree roots, pulling out the dark, rotting leaf-mould and splatting it around in their hands. The leaf-mould was called 'Yok' (a word that can also describe anything squishy and slightly smelly and, well, 'Yokky'). The whole process, for some reason, was called 'Guddling', and it had to be done with special 'Guddling sticks'). These little time-warps are so strange.