What a night! City and Guilds did us proud, with a great celebration of all the awards. Congratulations to Jill Harden, who also picked up a Lion Award for her Floristry course. Well done Jill and Jill!
Here I am on my first (and probably only) red-carpet photo-session! With any luck the official ones will be slightly better…(later comment – no, they weren't!)
For me, one of the awards that particularly stood out was for Samith Rajapaksha, who travelled all the way from Sri Lanka to collect his award for International Learner of the Year. To do his course and get to his work-place, he had to walk two hours from his village every day. I liked his statement that 'no dream is too big and no dreamer is too small'. I was also pleased to see an award for Ian Reynolds, Community Supporter of the Year, for his work supporting carers, 'the forgotten people'.
It was a great evening; drinks, acrobats, eats, entertainments, speeches, awards, posh frocks, more drinks, and lots of socialising. We had some great conversations with so many interesting people, from different subjects, different age-groups and different social backgrounds. The one thing in common was a sense of energy, enthusiasm and excitement. It was great talking to some of the people in their twenties who had won awards – it was clearly a life-changing event. You could see the passion and energy that went into it all.  There were a few funny conversations, such as chatting to the felt-making medal-winner while our other-halves compared notes on the silk ties made by their respective partners. Here's DH, sporting his.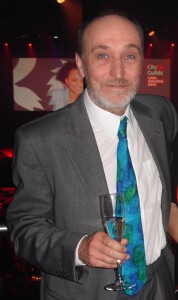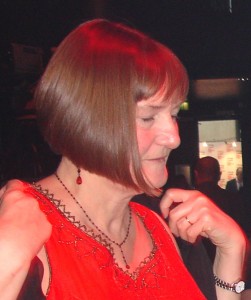 A rather strange photo on the right here, but it does record the extremely rare event of a good-hair-day, so here it is for posterity!