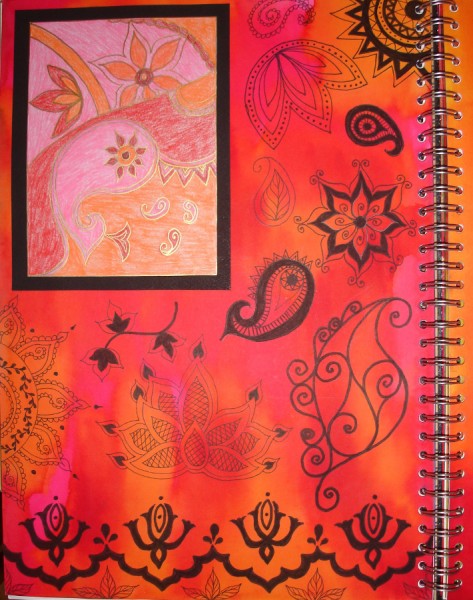 I love the vibrant, highly saturated colours that are so special to Rajasthan. Here are some bits of art-work and a couple of stitch-samples from the Diploma course, based on Indian motifs. Designing and making the dress that I mentioned in my previous post seemed like a great opportunity to to explore these Indian themes further.
I had reached the doom-and-disaster phase of the project (does everyone get that I wonder???) when luckily my fellow Diploma students and I had one of our get-togethers. Settled in the sun in Elaine's garden, I had the full focus of three 'helpers' to re-pin, adapt, cut and re-tweak the prototype. There was also great encouragement not to abandon the project. I think we ended up with something that looks less like a hospital gown and more like a dress!
On that basis I unpicked the prototype and made a new pattern, and dyed the viscose silk velvet to make the finished piece. Here's the dyed fabric. I love viscose silk velvet because of the way it drapes, and catches the light as it moves. It soaks up dye in great thirsty gulps, which means you can achieve a really highly saturated colour. 3 metres of heavy fabric would be difficult to dye evenly by hand, so I did it in the washing-machine using Dylon machine-dye. Strangely, Dylon don't seem to have a deep mid-red, so I used a tub of Orange and a tub of pinky-red. Luckily my theory worked, and it came out a deep mid-red colour. Designs for the neck and hem are based on the doodles below, which are a kind of embellished Taj-Mahal motif. Underneath that are some stitch samples for the dress (Janet trained us well!) Now the dress is half-made-up and I've started the machine-stitching on soluble fabric round the neck. I hope it works out OK. Eek! Watch this space!