What a big day on Saturday! Missenden Abbey hosted a lovely event for the presentation of the City and Guilds Gold Award Medal for Excellence for Stitched Textiles and for Floristry. There were a hundred or so people in the audience, including current City and Guilds students, my fellow Diploma students, Missenden Abbey staff, and DH for moral support. Thanks to Alison Pearce at the Abbey for organising a lovely event. It was all quite nerve-racking for someone who doesn't like to be the centre of attention, but I really appreciated that the Abbey made it a special occasion. Despite my nerves it was lovely to be made a fuss of. The ceremony was for two of us – Jill Harden won a Medal for Excellence for her Floristry course. Here's a photo of all of us.
It felt very unreal to be receiving this award, because of my real diffidence, many years ago now, about signing on for the first part of the course (now the Certificate, then 'Part One'.) I remember seeing the end of course show at Northbrook College and feeling inspired to try it but also feeling quite intimidated because I didn't see how I could possibly reach a sufficient standard to do the first course, let alone the second one. Luckily the tutor, Sue Munday, made me laugh about this apprehension and so she was able to introduce me to the delights of design, colour, stitch and particularly machine-embroidery. It was many years later that I signed up for the Diploma Course with Janet Edmonds, and continued the creative journey. Janet has been an inspiring and encouraging teacher, who has opened door after door into new worlds. Her own work is amazing, and we have all learned so much.
I was really pleased that my fellow-students were able to come to the presentation. The support of the group has got us all through many 'life events' during the course, as 'life' has taken it's twists and turns over the three years. It has been a pleasure to work alongside such positive and enthusiastic people, who are now firm friends.  Here we are, together with Janet Edmonds.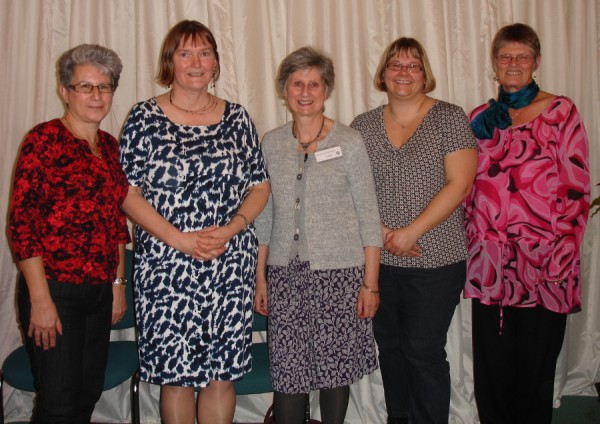 Here's Janet receiving her thank-you present from us, some time ago now, at the end of the course. It's a sewing-roll, designed by Cheryl and stitched to her instructions by the four of us.