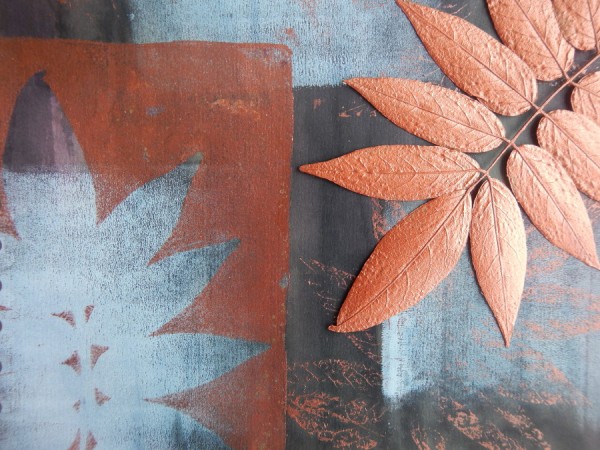 I enjoyed a wonderful day of 'gelliping' with Hilary Beattie at the Knit and Stitch show. Unusually for the Knit and Stitch show it was a whole-day workshop rather than a 'taster' session, which meant there was time to play and experiment. I was inspired to go on a workshop with Hilary when I read about her teaching on Sam Packer's blog catch a crumpsey. It is lovely to go on a course with a tutor who is so passionate about teaching, and I found the day very inspiring.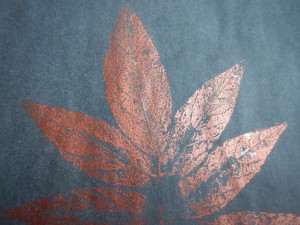 I've been wondering what the latest craze with gelli plate printing is all about. How is it different from 'normal' mono-printing using age-old surfaces like plastic or glass? Well now I know the answer – you can do all the same things that you do on a glass plate, but there are some extras. The biggest difference, I think, is that unlike printing from something firm, gelli plates will take an 'impression' of an item you use as a resist. After inking up the gelli plate and placing a 'resist' on it (like a leaf for example) the first print you take from it forms a negative print where the leaf appears as a 'void'. So far that's the same as a glass plate. But the difference is in the second print you take from it. The leaf gets pressed into the gelli; when you remove the leaf and take a second print from what's left, you end up with the positive print of the leaf, with the tiny details like veins all showing. That's a rather muddled explanation, so I recommend Hilary's new book that has just come out, which makes it all clear through examples.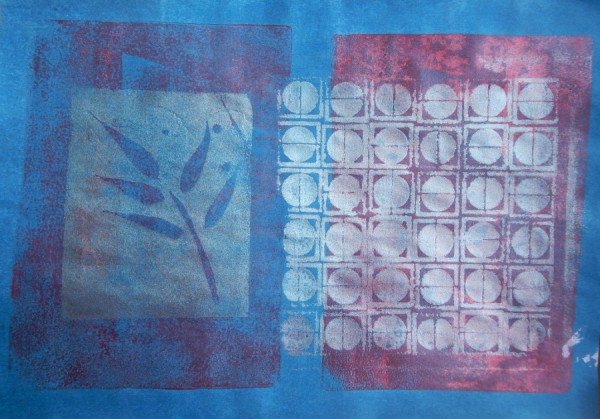 Or you can use the gelli plate just like a normal mono-print surface, like these that I did by printing several layers of colour and pattern. With these ones I was trying to create an impression of depth by over-printing with light and dark, or matt and shiny.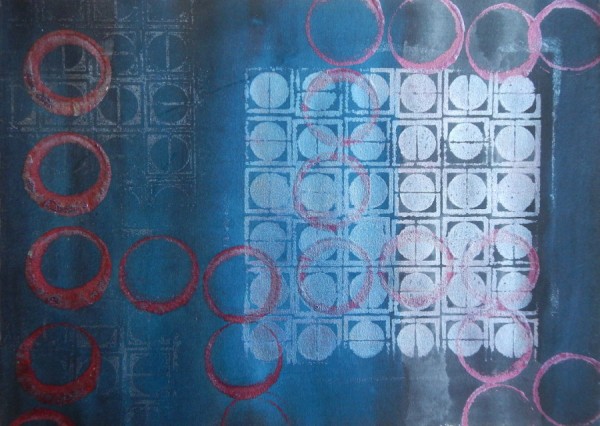 Here are a few prints put out to dry (below) that were done by the rest of the class. I would really recommend a course with Hilary – she's like a human whirlwind, good fun, very spontaneous and not at all precious about art. What a great day. And no, I really didn't have time for a course as I should really have been packing for the move, but it was good to escape from the sea of boxes for a while. Wonderful displacement activity.