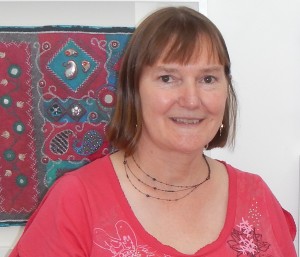 Textile art enthusiast, lover of wild places, day-dreamer, bossy-boots, fresh-air freak, responsibility-for-the-world-taker, cat-lover, list-maker, sailor, injustice-challenger, lazy cook, camper, water-baby, social worker, traveller, stitch fanatic, mountain walker, word-lover, fortunate friend, obsessive completer-finisher, dawn-chorus listener, skier, big sister, ditherer, number-phobic, colour enthusiast, country-girl, organiser, adoring auntie, night-owl, rule-breaker, cosmic guilt-sufferer, book-worm, explorer, freedom-seeker, another-glass-of-wine drinker, centre-stage hater, silence-lover.
A Textile Journey
Fabric always fascinated me. One of my early memories is standing next to the table where my mother was sewing, with the sewing machine at my head height, and being allowed to turn the handle while she steered the material and gave instructions. In later years, alongside my professional life I dabbled with various creative activities – drawing classes, life painting classes, silk painting, batik, mosaic etc. It wasn't until I started on City and Guilds Stitched Textiles courses that these apparently diverse interests finally found a focus. In 1999 I went on a City and Guilds Textile Decoration course at Northbrook College, taught by Kim Thittichai. I marvelled at the work by the Stitched Textiles students who exhibited alongside us, but I worried that I didn't have the necessary skill to join the course. Once I enrolled on 'Part 1', with tutor Sue Munday, I realised that the 'missing' embroidery and design skills that I had worried about were in fact the main substance of the course, and my enthusiasm for stitched textiles really took off.
After a long gap, I signed up for the Diploma in Stitched Textiles (Embroidery) at Missenden Abbey, taught by Janet Edmonds. This was a wonderful three years of artistic excitement, camaraderie and creative challenge in which we all developed our own individual styles and interests. Each of us explored our own visual subject. Mine was rocks and fossils, partly triggered by my brother finding his old fossil collection when we were clearing out the family home. Together with a lovely group of fellow students, we talked, laughed, learned, explored, enjoyed, and created. Seeing Janet's own work, and the samples she developed for the course, gave constant inspiration. I developed an interest in combining stitched textiles and technology, which I was able to explore in some of my finished pieces. A particular joy during the course was looking at the History of English Embroidery, and appreciating how textiles reflect our social history.
At the end of the course I was delighted to be put forward by Missenden Abbey for the Gold Medal for Excellence in Stitched Textiles (Embroidery), and I was honoured to hear that I had won it. This seemed particularly amazing when I thought back to my diffidence about signing on for 'Part 1' so many years ago. What a journey it's been! Now a new journey is beginning, and it's exciting to think that I have absolutely no idea where it will lead. The balance of my working life is shifting a little, from 'the day job' towards textiles.
In 2015 together with four of my fellow-students on the Diploma course, we formed a new exhibiting group 'FIVE'. We started by exhibiting at The Studio Gallery at Worthing Museum and Art Gallery in May 2016, and we plan to exhibit together regularly. There is more information about the group on the FIVE page.