Welcome
I'm a Textile Art enthusiast based in Worthing, West Sussex. I work with hand and machine stitch as well as mixed media. You'll find here a mixture of embroidery, stitched textiles and mixed media art, as well as other musings and ramblings about textiles, art, creativity and life in general. It's great to have feedback, so please feel free to add comments.
'FIVE' Exhibition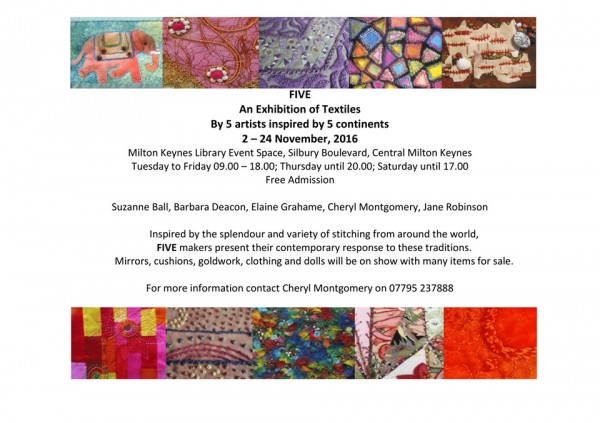 We were very pleased with the feedback on our exhibition 'FIVE' in May 2016 at the Studio Gallery at Worthing Museum and Art Gallery. Thanks to everyone who visited and left lovely comments. We're moving it to Milton Keynes from 2nd November 2016, together with some new work.
Chinese Proverb: 'When someone shares something of value with you and you benefit from it, you have a moral obligation to share it with others'.